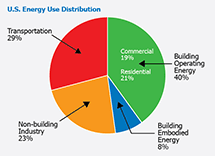 Plan Curtail provides the rationale and methodology for reducing home CO2 emissions from heating and cooling by as much as 80%. This is especially important, since the International Panel on Climate Change and most nations agree that an 80% cut in all emissions is needed by 2050. Our residences (homes and apartments) generate 21% of U.S. CO2 emissions, about 10.2 metric tons annually per residence. On average there are 2.6 people in a household. Thus each of us is responsible for 4.1 metric tons of CO2 yearly, just from our homes. This is about the same as the CO2 we create by driving.
Many people hope that green buildings, (such as LEED for Homes) and energy-efficient buildings (such as Energy Star) will result in deep CO2 emission cuts. Unfortunately, such programs only provide a 15-30% reduction in CO2 emission compared to current building codes. In addition, they are only applied to 10% of new buildings, while the other 90% are built to conventional building codes that do not emphasize low energy use. Since buildings last for decades, most buildings will require expensive retrofitting in order to meet this 80% reduction.
The nation will need to retrofit existing homes to approach the much more efficient Passive House standard. New Passive Houses (not to be confused with passive solar houses) reduce the energy used for heating and cooling by 80%. Even a deep-energy retrofit, which can be staged to help manage the expense, can reduce CO2 emissions by 50-75%. There are 115 million residences in the US, most of which must be retrofitted to a higher efficiency standard. More than 40,000 new or retrofitted Passive House buildings in Europe show this is possible.
Energy-Efficient Building History
Historical Building Books